---
---
As opposed to old-fashioned slideshow screensaver builders, with Animated Screensaver Maker you can turn static photos into real animated scenes. You can easily create a virtual aquarium with moving fish, make a seaside scene, add weather effects, or use any of several other animated effects and objects!
Powerfull animation editor included
Instant instalation of your creations
Windows screensaver format (SCR) supported
---
Breathe new life into your desktop! Animated Wallpaper Maker will place fascinating animated scenes just behind your icons and toolbar making your work screen outstanding.
Powerfull animation editor included
Minimal resource usage - doesn't slow down a computer
Animated wallpaper manager included
Create wallpapers in EXE format and share them with your friends
---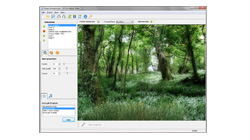 DP Animation Maker is powerful, easy-to-use animation software that lets you create animated backgrounds, animated gifs for websites, and other content within minutes.
Powerfull animation editor included
Import into animated GIF and AVI formats
Playing animation in a windowed application
---
---
This add-on consists of 40 professional high-resolution animations of birds, animals, and fish. The add-on is compatible with all DesktopPaints animation programs and requires installation only once to work with all of them.
Land animals
Birds
Sea life
Fantasy and prehistoric creatures
---
Don't have time to design your own animations? Browse our collection of high quality professional animated wallpaper for desktop customization and personalization.
---
Video Wallpaper Master
With Video Wallpaper Master you can have video background on your desktop without getting Dreamscene for your PC. Video Wallpaper Master allows you to easily enhance the desktop of any version of Windows including XP and Vista, with amazing Dreamscene-like video effects. It's a very handy tool. You can run and stop video wallpaper with just one click on the program icon. There are no complicated preferences and settings. There is only fun!
---
---